Matthew P. Badrov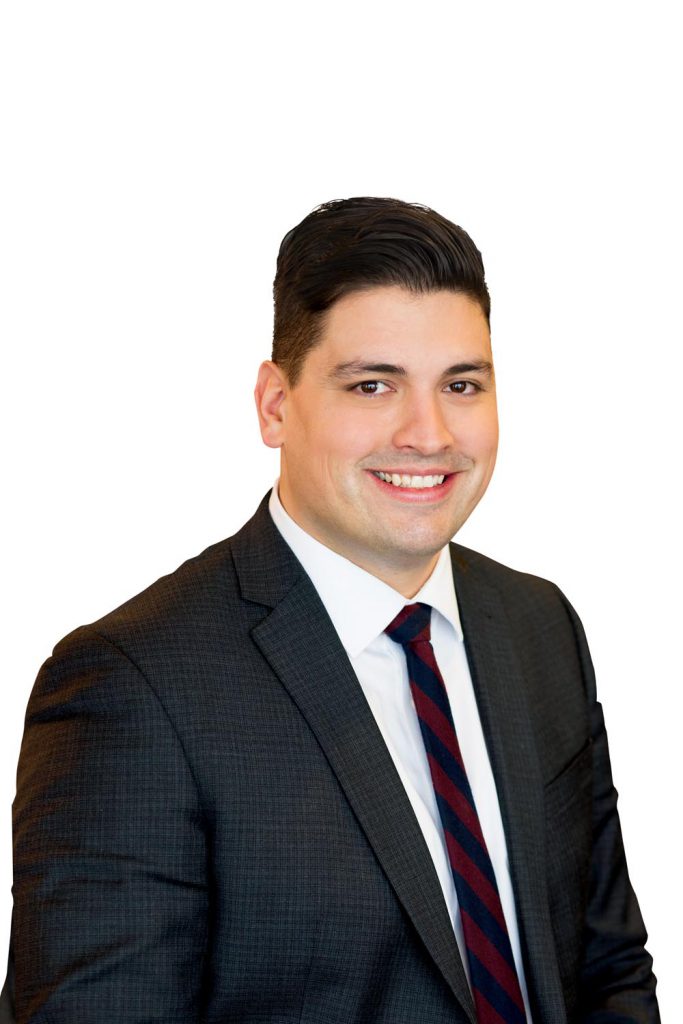 Matthew P. Badrov
Direct:
416.217.2221
Cell:
416.527.4479
University of Windsor, Bachelor of Laws
University of Guelph, Bachelor of Arts (Honours),
Criminal Justice and Public Policy
Matthew P. Badrov
Matthew is a highly skilled and versatile lawyer with expertise in a broad range of employment, labour and human resources matters.  Widely published, Matthew is regularly asked to speak on a range of topics related to his practice and has taught labour law at Conestoga College.  He is bilingual – English/Croatian.
Matthew is a member of the Canadian Croatian Chamber of Commerce, Ontario Trucking Association, Retail Council of Canada, Canadian Bar Association, Ontario Bar Association (Labour & Employment, Construction, Civil Litigation, Constitutional, Civil Liberties & Human Rights, and Workers' Compensation) and Law Society of Ontario.
While at law school, Matthew received the J.W. Whiteside Award in recognition of outstanding service to the Faculty of Law and community of Windsor. He began his career as a student with Sherrard Kuzz&nbspLLP during which time he completed a secondment with the Ontario Labour Relations Board.
---
Areas of Focus:
Publications & Media
How Will The Pandemic Impact Employee Notice Periods

November 16, 2020

HRReporter

COVID-19: Legal Obligations Around Childcare Accommodation

October 30, 2020

OBA Constitutional

COVID-19: Legal Obligations Around Childcare Accommodation

August 4, 2020

HRReporter

Managing Workplace Risk During COVID-19 Pandemic

May 13, 2020

HRReporter

Can a Deficient Termination Provision Ever Be Saved,

March 5, 2020

HReporter

Bill 148 – What it means for Ontario's small businesses and non-profit employers

HRPA Durham Chapter

Managing the OHSA – Best practices for manufacturers: Protect workers while successfully responding to MOL inquiries

Plant Magazine

The Changing Workplaces Review and the Ontario College of Trades – Looking Forward to 2017

Ontario Road Builders' Association - Road Builder Magazine

The Occupational Health and Safety Act: Best practices for employers

September 2015

Dialogue - Ontario Electrical League

Who is a 'construction employee' and why does it matter?

May 21, 2015

Daily Commercial News

The construction industry and unions: what you need to know

Dialogue

Follow the Leader: Organizational Culture Change Comes From The Top Down

HR Professional

Hiring students this summer? Here's what employers need to know

May 20, 2014

Canadian Occupational Safety

Hiring students this summer? Make sure you know the rules.

April 2014

Sherrard Kuzz LLP

April 2014

Briefing Note

Workplace safety due diligence vital to everyone

March 31, 2014

Daily Commercial News

Crossing the Line with off-duty Online Posts

March 20, 2013

Canadian Employment Law Today
---
Speaking Engagements
Leadership & Business Development Roundtable

November 02, 2021

Canadian Franchise Association (CFA)

Leadership & Business Development Roundtable

October 13, 2021

Canadian Franchise Association (CFA)

Navigating and Implementing COVID-19 Vaccine Policies in Your Business

October 13, 2021

Vaccine and the Workplace – What You Need to Know

October 12, 2021

Canadian Franchise Association (CFA)

Diversity and Human Rights in Franchising

September 23, 2021

Canadian Franchise Association

The Employment Lifecyle –Best Practices for Hiring, Performance Management and Terminations

August 12, 2021

Chartered Professional Accountants of Ontario

COVID-19 And the Workplace: Case Law Update

July 07, 2021

Canadian Franchise Association

COVID-19 and the Workplace: Employer Considerations on return to the "New Normal"

July 06, 2021

The Employment Lifecyle –Best Practices for Hiring, Performance Management and Terminations

June 02, 2021

Chartered Professional Accountants of Ontario

Warehouse at Risk: Labour & Law Roundtable

May 20, 2021

International Warehouse Logistics Association Canada

Legal Considerations Regarding Workplace Vaccination, Accommodation and Remote Work

April 29, 2021

The COVID-19 Vaccine and its Implications in the Workplace

March 17, 2021

Canadian Franchise Association

COVID-19 and the Law of Work in 2021

March 11, 2021

Live Issues at the Labour Board: What you need to know for 2021

January 28, 2021

Return to Work Considerations Pre- and Post- COVID-19 Vaccines

January 27, 2021

International Warehouse Logistics Association

Leading through COVID-19 & Planning for 2021: Terminations, Layoffs, Employment Agreements and More

November 19, 2020

PEO – Thriving In A Brave New World Conference

Operations & Franchisee Support Summit: HR & Workplace Policies

October 21, 2020

Canadian Franchise Association

Franchisee Summit: Free HR Advice: Employment, HR, and Workplace Policies

October 07, 2020

Employment and Workplace Related Issues and Precautions and their Impact on Franchise Systems

September 24, 2020

Updating Your Workplace Policies to Reflect Covid-19 Challenges

August 11, 2020

Canada Franchise Association (CFA)

Returning to the Workplace: What Employers Need to Know

August 06, 2020

Canada Franchise Association (CFA)

Cannabis Legalization and Workplace Policy: What Every Employer Needs to Know

April 23, 2020

International Warehouse and Logistics Association

Warehouse Labour & Canadian Law in the Time of COVID-19

April 2, 2020

Coronavirus: What Manufacturers Need to Know and Legal Aspects of Health & Safety

March 11, 2020

Canadian Manufacturers & Exporters (CM&E) – Health & Safety Symposium 2020

Empowering Youth for Career Opportunities: Student Networking Event

January 20, 2020

Canadian Croatian Chamber of Commerce

2019 Year in Review… And what to expect in 2020

December 4, 2019

Sherrard Kuzz LLP

HR

eview

Terminations – Key Considerations for Employers

November 7, 2019

Ontario Mutual Insurance Association

Accommodation 101: Best Practices for Employers

September 26, 2019

Greenwood Retirement Communities

Employment Law: Best Practices for Employers

September 13, 2019

Home Instead Ontario Owner's meeting

Employment Law Basic Every Dental Professional Must Know

March 29, 2019

Update in Dentistry – University of Toronto

Legal Aspects of Drug and Alcohol Testing, Legalized Marijuana, What Does this Mean in the Workplace

March 1, 2019

Ontario Road Builders Association Health and Safety Academy

Occupational Health and Safety for Supervisors

February 27, 2019

Ontario Road Builders Association Health and Safety Academy, BMO Institute for Learning, Toronto

Conducting an Effective Workplace Harassment Investigation and Cannabis Legalization in Canada: What Does this Mean for the Workplace?

February 26, 2019

Reasonable Cause Detection

February 14, 2019

The 2019 ORCGA Damage Prevention Symposium

Best Practices in Attendance Management

January 23, 2019

Human Resources Professionals Association (HRPA)

Cannabis Legalization and Workplace Policy: What Every Employer Needs to Know

December 5, 2018

CMHA Mental Health and Addiction Services

Cannabis Legalization in Canada – What Does this Mean for the Workplace?

December 4, 2018

Council of Ontario Construction Associations

Where Franchise Law Meets Employment Law: Considerations for Franchisors

November 13, 2018

Ontario Bar Association Franchise Law Conference

Best Practices for Attendance Management

November 1, 2018

Human Resources Professionals Association (HRPA)

Cannabis Legalization in Canada - What Does This Mean for the Workplace

September 27, 2018

Ontario Road Builders' Association (ORBA)

Best Practices in Attendance Management

September 26, 2018

Human Resources Professionals Association (HRPA)

Cannabis Legalization in Canada - What Does This Mean for the Workplace

September 13, 2018

Ontario Road Builders' Association (ORBA)

Best Practices in Attendance Management

March 21, 2018

Human Resources Professionals Association (HRPA)

Bill 148: It's Now The Law! What It Means for Employers

March 7, 2018

Sherrard Kuzz LLP, HReview Seminar

Drugs and Alcohol in the Workplace and the Duty to Accommodate

March 2, 2018

Ontario Road Builders Association (ORBA)

Drugs and Alcohol in the Workplace and the Duty to Accommodate

March 2, 2018

Ontario Road Builders Association

Effective Use and Implementation of Employment Policies

February 26, 2018

Best Practices for Hiring & Firing: What Franchisors and Franchisees Can Do To Avoid Legal Pitfalls

April 2, 2017

Canadian Franchise Association, National Convention

Employer's Duty to Accommodate

February 15, 2017

Niagara Association of Hospitality Human Resources Professionals

Responding to Union Organization in the Construction Industry

February 7, 2017

Barrie Construction Association (BCA)

What a Difference a Year Makes! Lessons from 2016 & Tips for 2017!

December 6, 2016

Sherrard Kuzz LLP, HReview Seminar

Drugs and Alcohol in the Workplace

November 18, 2016

Ontario Road Builders Association

What You Need to Know—A Guide to Employment and Labour Law Basics

September 13, 2016

Human Resources Professionals Association (HRPA)

Ontario Employers! Critical Amendments Are Coming to the Employment Standards Act and Labour Relations Act! Learn. Get Involved. Prepare.

May 31, 2016

Sherrard Kuzz LLP, HReview Seminar

CME Changing Workplace Review Update and Discussion

March 8, 2016

Canadian Manufacturers & Exporters (CME) Ontario

Breakfast Bar Plenary: Franchising in the Changing Workplace

January 28, 2016

CFA – Canadian Franchise Association, CFA Franchise Law Day, Bridging Business and the Law

Responding to Union Organizing in the Construction Industry

January 23, 2016

Barrie Construction Association

Best Practices for Hiring & Firing: Protect your business and avoid legal pitfalls

May 5, 2015

Human Resources Professionals Association

Managing the Difficult Employee

January 28, 2015

HR Reporter Webinar, Thomson Reuters

Best Practices for Hiring and Firing

January 22, 2015

Consulting Engineers of Ontario

Executive Diploma in Municipal Management: Human Resources Law

December 8, 2014

AMCTO – The Municipal Experts

Executive Diploma in Municipal Management: Human Resources Law

November 20, 2014

AMCTO – The Municipal Experts

Employment 101

October 16, 2014

Ontario Craft Brewers Conference

Accessibilitiy for Ontarians with Disabilities Act (AODA) Information Session

October 15, 2014

Canadian Hardware & Housewares Manufacturers Association

Human Resources Update

October 8, 2014

Canadian Manufacturers & Exporters

Employment Legislation and Ending the Employment Relationship: What Small Business Needs to Know

October 8, 2014

Ontario Association for Optometrists

Executive Diploma in Municipal Management: Human Resources Law

September 17, 2014

AMTCO – The Municipal Experts

Avoiding Legal Pitfalls During the Hiring Process: Keys to Sourcing and Selecting the Right People for Your Business; Keys to Creating and Implementing a Performance Management System

September 16, 2014

Ontario Association for Optometrists

Conducting an Effective Workplace Investigation

June 25, 2014

HR Reporter Webinar, Thomson Reuters

Privacy, Surveillance & Social Media: Understanding an Employer's Rights and Obligations

June 5, 2014

Consulting Engineers of Ontario

Staying Ahead of the Curve: Keys to Protecting Your Business and Staying Union Free

May 2, 2014

Ontario Electrical League

Responding to Union Organizing in the Construction Industry

January 23, 2014

Barrie Construction Association